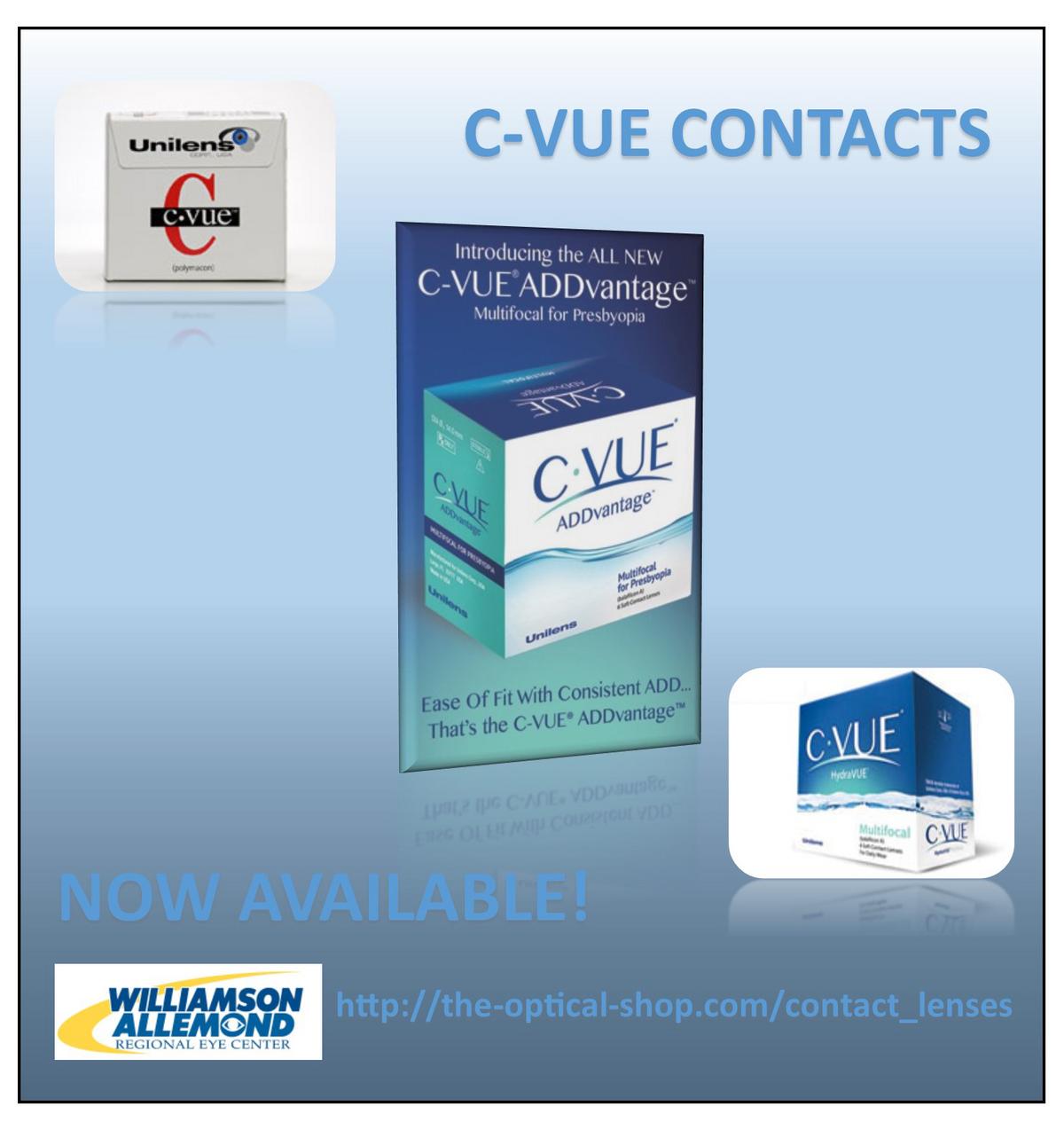 CHECKOUT THE C-VUE CONTACT LENSES!
By Tonya Rider, Contact Lens Representative
The Unilens C-VUE brand contacts is one of our most popular selling contacts! The monthly disposable C-VUE lens is Unilens' most successful multifocal product. It is an aspheric soft contact lens that provides near, distance and intermediate vision correction. It is available in high and low ADD versions, and it even features a blue visibility tint. It is very cost efficient and comes in packs of six which are disposable each month. Dr. Jason Allemond prefers this lens because of the contact lens design, and it is the best material available today.
With the C-VUE lenses, our doctors are able to fit patients who may not have had success wearing contact lenses in the past. Whether due to poor vision, astigmatism, comfort issues, or dry eyes, there are many other choices in contact lens materials to meet those particular challenges. The Toric lenses are made from the same materials as regular contact lenses but have a few extra characteristics. They correct both spherical and cylindrical aberration.
In a contact lens eye exam, the Doctor will examine your eyes to determine if you can wear contact lenses. Your prescription is evaluated, and the curvature of your eye is measured, and the doctor determines any special needs you may have. The doctor will then decide the type of contact lenses that best fits your eyes and provide you with the most accurate vision while ensuring that your eyes remain healthy with the lens choice. If trial lenses are available in the office, you may be able to go home with lenses the same day.
If you are interested in the C-VUE lenses or for any other contact lenses related needs, call the Williamson Allemond Regional Eye Center today! Our number is 225.654.1061!
Tonya Rider, Contact Lens Representative
Williamson Allemond Regional Eye Center
Click Here To Make An Appointment!
Click Here To Visit The-Optical-Shop Online!