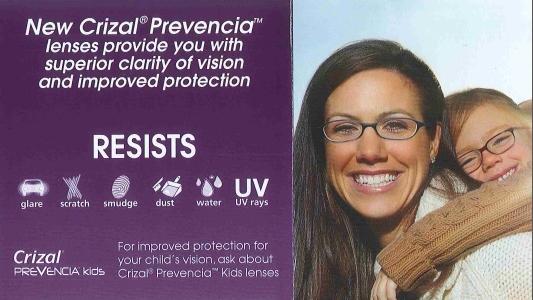 CRIZAL PREVENCIA - Glasses Lenses That Protect!
By Lisa Smith, ABOC, Optical Manager, Optician
Do you work on a computer for hours in a day? Do your eyes feel tired at the end of the day? Are you concerned about what UV (Ultraviolet) Light is doing to your eyes? How about Blue Violet Light or Light from your computer or handheld gadgets?
Light plays a very important part in our everyday life. It helps us see shapes, details and even colors. It helps us regulate our sleep and wake cycle, our mood and other brain functions as well. As great as light is, it can also be harmful to your vision if your eyes are not protected properly.
UV light damages your eyes just like it damages your skin. It accelerates the aging of your eyes just as well. Blue-Violet light can increase the risk for an early onset of age related macular degeneration (AMD). AMD mostly attributes to the loss of vision in adults over the age of 60.
Where there are problems in relation to the human eye(s), the Williamson Allemond Regional Eye Center in Zachary has solutions!
Let me tell you about our no-glare lens that can help protect your eyes from the harmful Blue Violet and Ultraviolet light! The Crizal Prevencia is a no-glare lens that allows Blue Turquoise light to pass through to preserve color perception, but it still provides 25 times more protection against damaging rays from the sun! It also deflects the harmful Blue Violet light to protect your vision, and this continues all day long. Your eyes will actually feel more rested at the end of the day. We have patient testimonies of this every week! Even the staff here at the Center has had the pleasure of this same benefit too! These special lenses are scratch, smudge, dust and water resistant too! The best thing of all is that they are very easy to clean!
If you'd like to learn more about the Crizal Prevencia specialty lenses, call or come by! One of our Expert Opticians will be more than happy to help you.
WE LOOK FORWARD TO SEEING YOU!
Lisa Smith, ABOC
Optical Manager, Optician
Williamson Allemond Regional Eye Center
Call Or Come By Our Optical Shop!
2421 Church Street, Zachary, LA 70791
225.570.2817
You Can Even Shop Online!