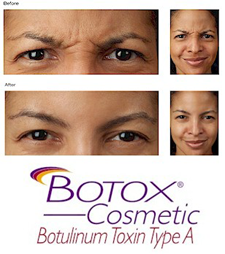 Cosmetic Botox Treatments for Crow's Feet & Frown Lines
By Michael R. Oswald, M.D.
Cosmetic Botox Treatments for Crow's feet and Frown lines
Skin wrinkles are an unfortunate side effect of aging and are especially common around the eyes. Wrinkles just to the side of the eyes are often referred to as crow's feet or laugh lines. Wrinkles between the eyebrows are often referred to as frown lines. Fortunately, there is a treatment which can temporarily reduce the wrinkles in these areas. This treatment is known as Botox. Botox is a medication which when injected in very small amounts can stop the muscle contractions from occurring that lead to wrinkles. The treatment consists of injections in the muscles underneath the skin in the affected areas. These injections are relatively painless and last for 4-6 months at which time they can be repeated.
If you are interested in learning more about Botox treatments, give us a call or make an appointment and we can discuss the injection procedure further.
Michael R. Oswald, M.D.
Ophthalmologist
Williamson Allemond Regional Eye Center
http://www.WilliamsonAllemond.com/Botox_and_Fillers
CALL TO MAKE YOUR APPOINTMENT!
225.654.1061, Option 2