Thursday, December 03 2015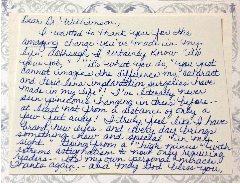 DON'T YOU JUST LOVE PATIENT TESTIMONIALS?
WE CERTAINLY DO!
Please see the attached card that was sent to us by one of our patients who was operated on in September of this year. She had Cataract Surgery in both eyes, and she received the "Toric Lens" implants. The Toric & Restor Lenses are Advance Technology Lenses that our Surgeons can implant at the time of Cataract Surgery. They actually correct vision problems which normally would require glasses or contacts for life after surgery. Our "Miracle" Patient here had extremely bad astigmatisms in both eyes, and now she only uses reading glasses on occassion! She was so pleased with her outcome(s) that she sent us this card to thank Dr. Baron J. Williamson for performing her surgery, and with her permission, we are able to share her testimony with you.
Another Satisfied Customer at the Williamson Allemond Regional Eye Center in Zachary, Louisiana.
If you are your loved one is having Vision or Facial Problems
Come See Us Today!
Call Us: 225.654.1061
Email Us: Info@RegionalEyeDocs.com