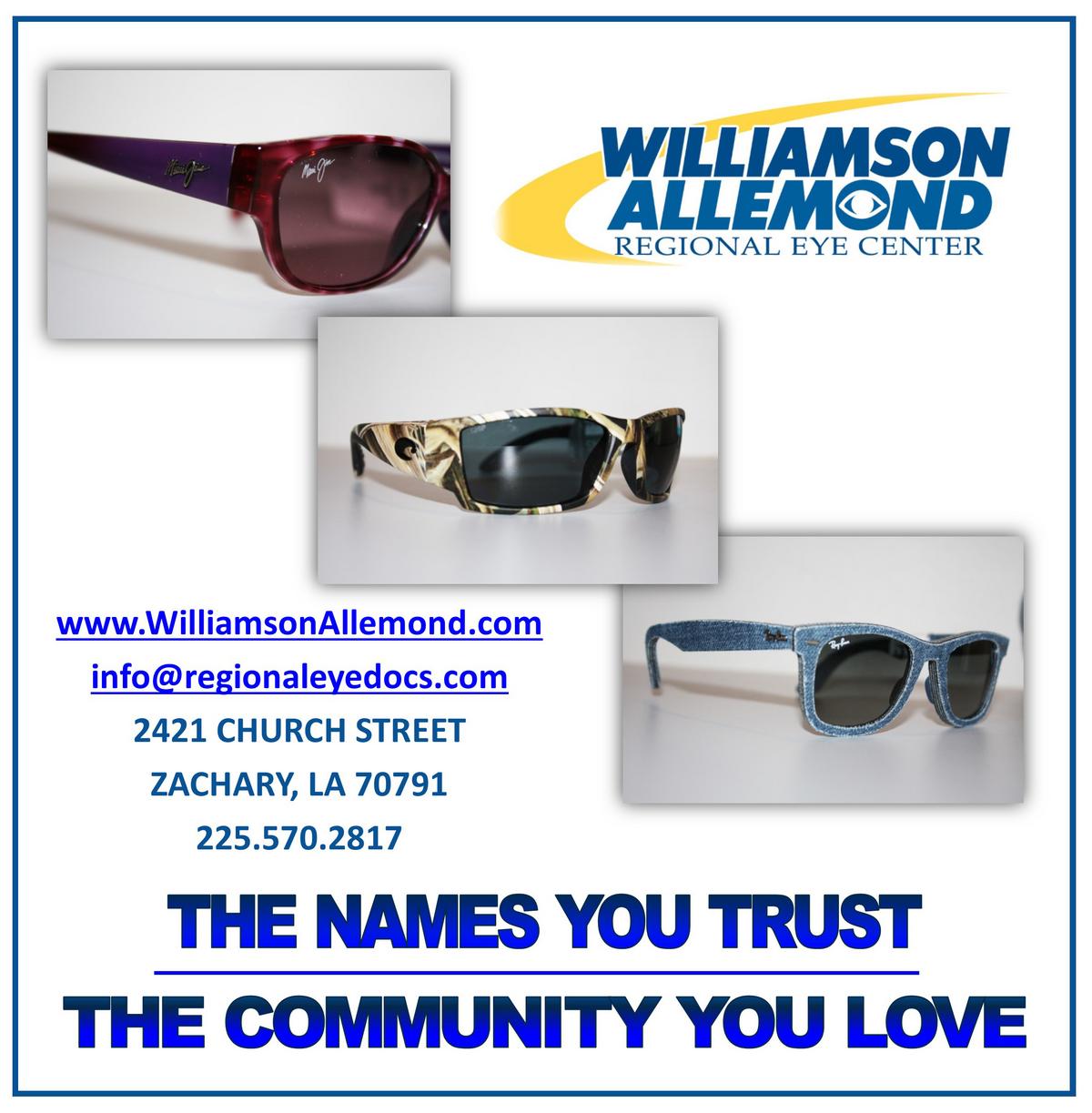 IT'S SUMMERTIME, PROTECT YOUR EYES!
By Jason P. Allemond, O.D.
During the summer months in Louisiana, you are never completely dressed without your sunglasses as part of your outfit!
Extended exposure to the sun's harmful ultraviolet (UV) rays has been connected to cataract formation, pinguecula, pterygia, and macular degeneration. New studies show that the sun's emittance of high-energy blue light can also cause retinal damage in certain populations.
There are 3 categories of UV light. These are UVC, UVB, and UVA.
The ozone layer absorbs most UVC rays so very little of these harmful rays reach the earth's surface.
UVB rays do reach the earth's surface and these are the wavelengths of UV light that can cause sunburns, and it can cause growths on the surface of the eye called pinguecula, and pterygia.
UVA rays are weaker than UVB rays, but they penetrate the cornea and can cause cataracts and retinal problems such as macular degeneration.
To protect your eyes from the sun's harmful rays, one should always wear quality sunglasses that block 100% of UV rays and absorb most high energy blue rays. Your choice of glasses frames should be a close fitting, wrap around style that eliminates ambient light from sneaking in around the edges of your frames. Remember, color or the darkness of lens does not reflect how much UV energy the lenses will block. In fact, most people don't know this, but UV protection can be put on clear lenses just as well.
Sunglasses are not just for adults, children are just as susceptible to the sun's harmful rays too. Kids typically spend more time outdoors and their ocular surface is clearer, which allows for deeper penetration of these harmful rays.
Please don't neglect the health of your eyes this summer, and be sure to wear your sunglasses! Please be sure not to neglect your children's eye health either!
Come by our Optical Shop, and one of our Opticians can help you with the right selection for you and your family!
Jason P. Allemond, O.D.
Optometrist, Partner
Williamson Allemond Regional Eye Center
Call Or Come By Our Optical Shop!
2421 Church Street, Zachary, LA 70791
225.654.1061
*SUMMER SALE ON SUNGLASSES*
ENDS JULY 31st !